Who We Are
The Latin American and Caribbean Association of Immunology (ALACI) is a regional federation of immunology societies from different Latin American and Caribbean countries.
It was founded as the Latin American Association of Immunology (ALAI) in 1984 in Buenos Aires, Argentina and integrated in its beginnings by the immunology societies of Argentina, Brazil, Chile and Mexico. Then, the national immunology societies of Colombia and Venezuela (1987), Uruguay (1988), Paraguay (1989), Cuba (1995), Peru (2004), Bolivia (2012), Honduras (2020), and West Indian (2021) were incorporated. Moreover, the societies from El Salvador (2018), Guatemala (2019), and Ecuador (2021) became part or ALAI as correspondent members.
Since 1987, ALAI was accepted as the Regional Federation from Latin America by the International Union of Immunology Societies (IUIS).
In 2019, ALAI changed its name to ALACI to truly represent the diversity of Latin American and Caribbean countries that form part of it.
ALACI brings together around 1,600 Latin American and Caribbean immunologists, who are currently represented in most of the different IUIS Committees.
Federation
ALACI is a regional federation member of the IUIS, together with the European Federation of Immunological Societies (EFIS), the Federation of African Immunological Societies (FAIS), the Federation of Immunological Societies of Asia and Oceania (FIMSA), the American Association of Immunologists (AAI) and the Canadian Society of Immunology (CAI).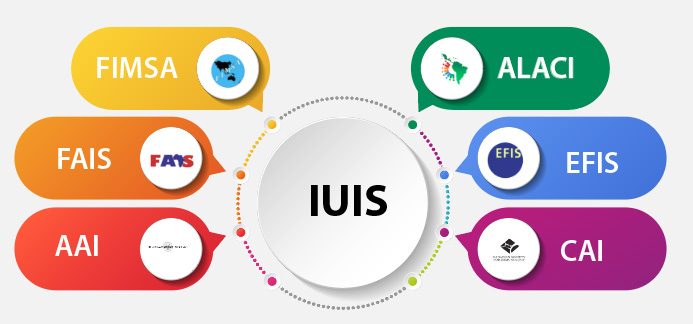 Aims and mission
SPREAD Immunology in our region as part of the IUIS vision of achieving "Immunology without borders".

STIMULATE the interaction and cooperation between groups that work in immunology within ALACI´s member societies and with members of other immunology federations.

ORGANIZE scientific educational activities about immunology through regional meetings and congresses, national conferences, workshops and postgraduate courses.

CONTRIBUTE to the advancement of Immunology through publications in scientific journals, social media, public campaigns, and interaction among its members and with members of other societies or federations around the world.

WORK to improve public health in the region through the transdisciplinary and preventive nature of Immunology.

ENCOURAGE its members to make significant contributions to immunology in the region.

IDENTIFY and consider inequities.

RAISE AWARENESS on key issues in Immunology.

PROMOTE the creation of a network of immunologists that contributes to solve regional health problems.
Activities
ALACI celebrates triennial congresses in rotative venues among the member countries that have established member societies.